Vegan Gluten-Free Apple Crisp With Coconut Oat Crumble
1 min read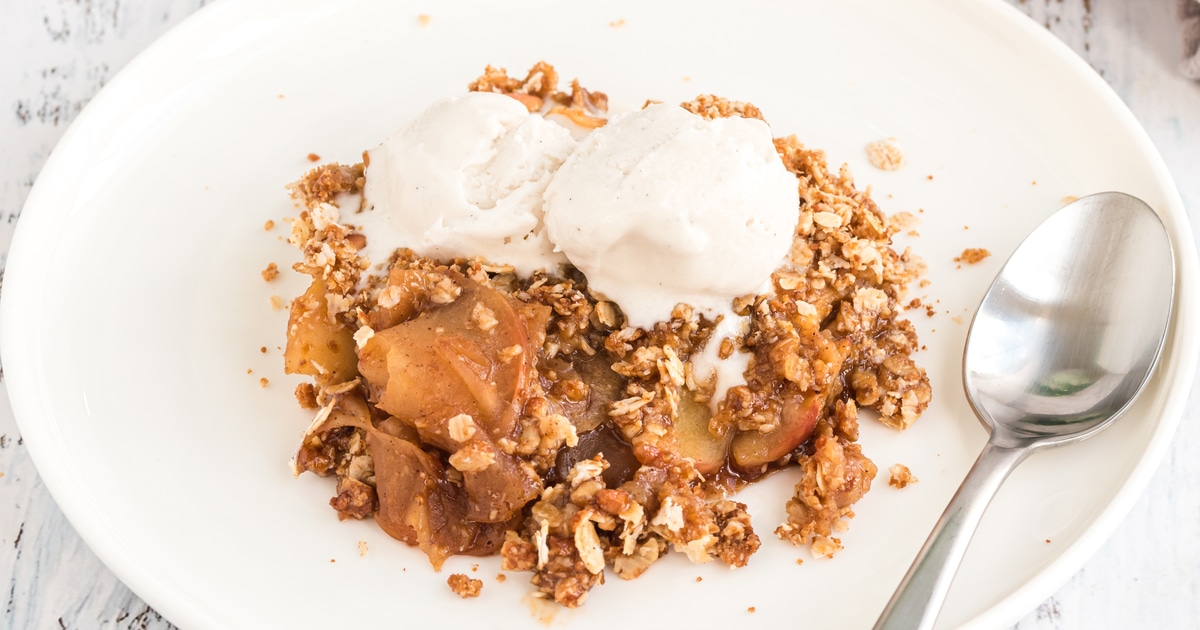 Prime this toasty, golden crisp from the Dreena's Sort Kitchen cookbook with scoops of vanilla bean ice cream for a superbly decadent dessert. 
What you want:
For the crisp topping: 
¼ cup coconut butter, softened 
1½ tablespoons maple syrup 
1 cup rolled oats 
¼ cup coconut sugar 
3 tablespoons oat flour 
⅛ teaspoon salt 
For the filling: 
¼ cup maple syrup 
1 tablespoon arrowroot powder 
¼ tablespoon water 
1½ tablespoons lemon juice 
1 teaspoon floor cinnamon 
⅛ teaspoon floor nutmeg 
⅛ teaspoon salt 
5 cups peeled, cored, and thinly sliced apples 
4 tablespoons raisins 
1½ tablespoons coconut sugar
What you do:
Preheat oven to 350 levels. Frivolously grease a 9-inch glass baking dish. 
For the topping, in a mixing bowl, mix coconut butter and maple syrup and stir properly. Add oats, coconut sugar, oat flour, and salt, and blend till crumbly.
For the filling, in a big bowl, whisk maple syrup and arrowroot. Add water, lemon juice, cinnamon, nutmeg, and salt, and whisk once more. Stir in sliced apples and raisins, and toss to coat. 
Sprinkle coconut sugar into backside of baking dish. Distribute apple filling in baking dish, pouring juices over prime. Add topping, distributing evenly over apples. Bake for 30 to 35 minutes, till apples are smooth, utilizing a pointy knife to pierce by apples to check for doneness at half-hour. Take away from oven and let cool barely earlier than serving.
For extra recipes like this, try: